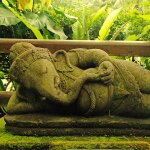 ganesha & dewi figures...
Ganesha statue - the god of happiness with the elephant's head
The Ganesha is the bearer of happiness and is considered a distributor of obstacles and a god of wisdom.
Not only in Hinduism, but also among Buddhists and Janis, the Ganesha is one of the most famous and popular gods. Since it stands for the removal of all obstacles, for a good start, for happiness and success, the Ganesha is called and revered before the beginning of any journey or an important new company. Ganesha figures can be found not only in temples, but also as garden figures in private homes and gardens. We offer a wide selection of authentic Ganesha stone figures. Either made of high-quality stone casting or as an ornate stonemasonry made of lava stone. In addition to large Ganesha garden figures, we also offer small Ganesha figures for apartment or balcony. Especially our small seated Ganesha in 27 cm is ideal for this.
Rice goddess Dewi Sri
Dewi Sri is revered in Indonesia, especially in Bali and the island of Java, as the guardian of the main food rice. It stands for fertility, a successful harvest and prosperity, as well as for harmony in the family. She rules about birth and life.
The rice goddess is usually portrayed as a young, slender but curvy woman, at the height of her femininity and fertility. In one of her hands, she carries a bowl of rice grains.
In Balinese Hinduism, the Hindu goddesses Lakshmi, Devi and Shri have merged to form the rice goddess Dewi Sri.
STONE art & more©
---
---
---