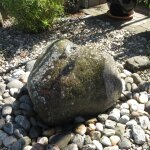 water features & fountains
Water exerts an irresistible fascination and enlivens every garden like no other element.
Pools and mini ponds decorated with flowers, water lilies or swimming candles are beautiful eye-catchers and the gentle splashing of fountains and water features provides relaxation and a soothing atmosphere.
A small selection of our animal figures can be used as fountains / water features. Among these animal figures are frogs, turtles and fish. These stone figures can enrich your pond landscape.
Our handmade mini ponds and bird baths from natural stone boulders can also be found in this category. It is remarkable how the stonemasons work out the fish in our bird bath "fish".
If you want to set Mediterranean accents in your garden, our Italian wall and stand fountains are perfect for this. Beautiful design combined with high-quality Carrara marble stone casting results in this unique result. Our bestseller in this category it the wall fountain "Sirmione".
In the Asian area we can offer a beautiful Dewi relief made of natural stone. These water fountains are often used in Bali and give a very special atmosphere.
You can either order conveniently online or visit our warehouse sale in Volkertshausen, not far from Lake Constance. There you can check the goods, choose your favourite, buy it and take it right away home.
STONE art & more©
---
---
---