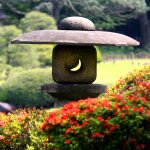 stone lanterns, lamps & pagodas
Stone lanterns, lights and Japanese pagodas - real works of art in the garden
There is nothing more beautiful than sitting in the garden with friends on balmy summer evenings and with the right lighting your garden becomes an experience even at night. Our garden lanterns set your garden in scene even in the dark and immerse the terrace in atmospheric light. Create atmospheric islands of light with a game of light and shadow.
With our stone lanterns you can transform the garden and terrace into a place of peace and relaxation, a place for romantic hours or dreaming. All our stone lanterns are hand crafted from stone blocks or boulders. Each of these exclusive stone lanterns is not only an eye-catcher but also a small work of art.
Our best selling item is the stone lantern with slits, made of a boulder. This stone lantern electrified gives a beautiful light.
Japanese style lava stone pagodas
Pagodas belong in every Japanese garden. In addition to the right planting, other elements such as water, light or stones, here in the form of Japanese stone lanterns, belong to a coherent overall picture. With our stone lanterns made of grey lava stone you set Asian accents in your garden. Very popular is our 3-storey pagoda made of grey lava stone.
Another highlight of our lantern collection is the Japanese stone lantern "Rankei". If you want to give your garden an Asian touch, you are absolutely right with the "Rankei" garden lantern.
These pagodas are decorative objects and are lit with a small tea light, if at all. Electrification is not planned.
You can either order conveniently online or visit our warehouse sale in Volkertshausen, not far from Lake Constance. There you can check the goods, choose your favourite, buy it and take it right away home.
STONE art & more©
---
---
---