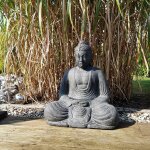 buddha figures & statues
Authentic Buddha Figures, Buddha Statues, Buddha-Heads and Busts of stone, for garden, balcony, terrace or as indoor decoration
Buddha figures have long since entered our gardens and houses, even if their inhabitants do not belong to Buddhism.
A Buddha statue can be a beautiful addition to garden decor as it is a decorative element and a symbol of peace, tranquility and mindfulness.
When choosing a garden Buddha statue, consider the size, material, and style that best suits your outdoor space and personal taste.
Buddha statues come in a variety of sizes, from small table figures to large outdoor sculptures. It's important to choose a size that is proportional to your garden space and doesn't overwhelm other elements of your landscape.
Finally, you should consider the style of Buddha statue that best suits your garden design. Traditional Buddha statues often show the Buddha seated. lying or in a standing position with a peaceful expression and intricate details. More modern interpretations can feature abstract designs or incorporate elements of nature such as lotus flowers or animals.
Remark: A stone Buddha figure or statue is a timeless and unique gift that attracts attention and can have a special meaning. It shows that you have thought about it and want to give something special that will give pleasure for a long time. Buddha figures can be great gifts that suit different occasions. They are suitable, for example, as a birthday gift, anniversary gift, wedding gift, housewarming gift or as a gift for special moments in a person's life.
Better cast stone or hand carved stone sculpures?
We offer Buddha figures in high-quality cast stone as well as hand chisled pieces made of lava stone (basanite). Both variants have their charm and their lovers. The decisive factor is the garden, the environment, the architectural style, etc. Black-antique cast stone often goes very well with new buildings and gardens, whereas stonemasonry work made of grey-green basanite could go better with old, mature garden.
Our Buddha figures are authentic. We source directly from the Island of Java, where traditional craftsmanship is passed down from generation to generation and Buddha statues have been made for temples such as Borobudur for more than 1000 years. When selecting our Buddha stone figures, we attach particular importance to the facial expression of the Buddhas and Buddha heads, because this should touch the viewer and make him happy
Browse through our extraordinary assortment and find the right Buddha for your garden.
You can either order conveniently online or visit our warehouse sale in Volkertshausen, not far from Lake Constance. There you can check the goods, choose your favourite, buy it and take it right away home.
STONE art & more©
---
---
---