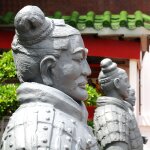 chinese figures & statues
Chinese terracotta warriors made of cast stone - with these stone figures you set accents in your garden
The Terracotta Army is one of the most valuable testimonies of Chinese history and the greatest archaeological discovery of the 20th century. The Clay Warriors are 2,000 years old and were discovered by chance from farmers in the Xian region.
The Chinese warriors belong to the classic figures from Asia and set a special accent as a garden figure in your garden. With us you will find different models, sizes and colours. Our bestseller is the standing warrior 100 cm in black antique.
Japanese samurai warriors - popular stone figure - ideal for an individual garden design
The Japanese samurai were not only warriors but also role models for the population. They were distinguished by their unfettered loyalty, self-discipline and courageous, fearless behaviour. We have recently started an samurai figure made of high-quality stone casting.
Chinese temple lions (Fu Dogs), also known as guardian lions - not only an eye-catcher in front of the Chinese restaurant, also a highlight as an garden figure
Temple lions are supposed to keep out mischief and bad influences and are therefore placed at the entrance of a house. The Guardian Lions are always set up in pairs. The female lion has a lion cub under his left paw and stands for growth and well-being. The male lion places his right paw on a sphere and symbolizes the unity and power of the realm.
Protect your house with a pair of our high-quality stone lions. We offer the Fu Dogs in high qualtiy casts stone as well as hand carved art pieces by stonemasons.
Asian monks made of cast stone - relaxation in your garden guaranteed
Buddhist monks live according to ascetic ideals. They study the teachings of Buddha and explore his life. The monks are usually depicted with a childlike face. The stone figures thus radiate a carefreeness and appear particularly attractive. Make sure you have a Shaolin monk for this relaxed atmosphere in your garden.
You can either order conveniently online or visit our warehouse sale in Volkertshausen, not far from Lake Constance. There you can check the goods, choose your favourite, buy it and take it right away home.
STONE art & more©
---
---
---