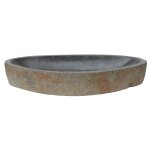 stone bowls
Gorgeous stone bowls in different designs and sizes as decorative elements in the home and garden
Stone bowls can be used in a variety of ways, both indoors and outdoors. Here are a few ideas for using stone bowls:
Water element: A stone bowl can be converted into a water element by filling it with water and adding a floating decoration, for example. This creates a relaxing atmosphere and can serve as an eye-catcher in your garden or terrace. Our mini pond is particularly suitable here.
Decorative bowl: An empty stone bowl can also be used simply as a decorative element. You can fill them with decorative rocks, shells, candles, potpourri or other accessories to create an attractive arrangement. These decorative bowls can be placed on tables, shelves or as an eye-catcher in different rooms. Our canoe bowl is ideal for this purpose.
Collector Bowl: Stone bowls are also perfect as collector bowls for small items such as keys, coins, jewelry or other personal accessories. You can place these bowls on dressers, entryway tables or in your office to display your collections in style. Our small stone bowl is particularly suitable for collecting small objects.
These are just a few ideas. There are countless other possible uses such as food and drinking bowls for dogs and cats and much more.
All stone bowls in our range are made from natural stone boulders. Due to the natural shape and color of the stone boulders, each of these stone bowls is "unique".
You can either order conveniently online or view, select, buy and take the goods with you in our warehouse sale in Volkertshausen, not far from Lake Constance.
STONE art & more©
---
---
---