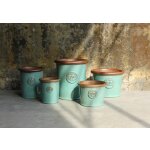 glazed planter
Beautiful hand-glazed frost-proof planter from Vietnam.
Our planter are decorative garden elements and a wonderful setting for scented shrubs, green plants and herbs. Planter at the house entrance welcome your visitors, large flower pots planted with fragrant shrubs are a highlight on your terrace or balcony and in stylish plant pots your herbs are a real ornament on the windowsill. But you can also put your plants in the limelight with these beautiful planter. There are hardly any limits to your design ideas, because our range includes many sizes, from small flower pots to large planter, with or without a saucer.
The glazed planters and flower pots from Vietnam are handcrafted in a traditional process and glazed in beautifully bright colors. The planters are fired in a wood-fired oven at a temperature of over 1200 degrees for 10 days. As a result the colours achieve a very strong intensity and withstand every winter put are not as evenly glazed as in modern gas oven.
You can either order conveniently online or visit our warehouse sale in Volkertshausen, not far from Lake Constance. There you can check the goods, choose your favourite, buy it and take it right away home.
STONE art & more©